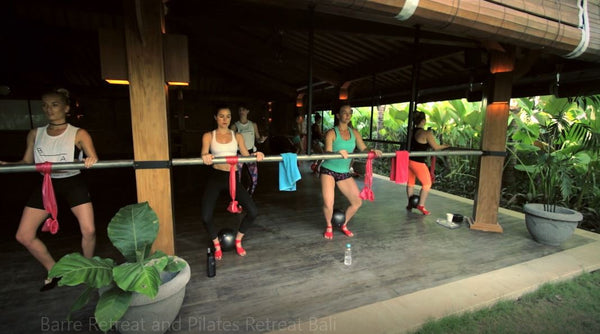 5 Reasons to Come on our Bali Barre Retreat
It's Barre Attack in paradise.
Fitness destination holidays are trending in a big way, and for good reason. More and more people are discovering that blending high intensity fitness with the right amount of chill-out time is the perfect break from reality. You come home feeling good, feeling fit with no post-holiday kilos. Our Barre Attack retreat takes our unique ballet fitness fusion into the tropical paradise of Komune Bali Resort.
First a video...

It's not to be missed! Here are five reasons why...
1. You don't have to be super fit
Whether you're a Barre Attack beginner or an experienced Barre Babe – this life-changing retreat caters for ALL fitness levels. Kickstart a new fitness regime or intensity your Barre Attack technique. Every morning at 7.30am you'll do a classic Barre Attack class in the tranquil, palm-fringed Health Hub. Next, it's time to indulge in a wholefood breakfast of quinoa porridge, watermelon pizza or scrambled eggs. Breakfast is different every single day. You'll then enjoy a relaxing yet targeted Pilates class by the sea. Every night at 5pm it's Barre Attack again – the perfect pre-dinner sweat up!
2. You'll get to experience Bali
Our Barre Attack retreat takes you to one of those most secluded tranquil parts of Bali on the unspoiled East Coast. Komune Resort is an eco-resort with lush gardens, organic homegrown vegetables, great surfing and luxury accommodation. From your base in Komune you'll be able to travel to Ubud to Monkey Forest or Seminyak for a touch of shopping. The BA retreat in Bali is the perfect way to enjoy Bali with a group of like-minded women in heavenly surrounds.
3. You get free time.
Some retreats are more like school camps than a holiday, with more scheduling than a toddler in the Eastern Suburbs, Sydney. At the Barre Attack retreat everything is optional. Even if you do every class each day, you'll still have from 10.30am until 5pm every day – to do whatever you want. Whether that's a dip in the pool, a massage at the spa or a cat nap in your room – choose your own adventure. We know you're busy. We know you need some down-time. And we cater for it.
4. You don't have to detox.
One of the unique aspects of our retreat is that you won't be drinking Kale juice all week. After you sweat it out on your final Barre Attack class, head down to the Beach Club and have a couple of wines and delicious meal with us. We don't even mind if you order a side of fries or two. There's no judgement and no food rules. It's up to you.
5. You'll reset for the year.
The retreat is a wonderful way to step out of the every day. You'll boost your health and fitness and reset your mind and body. You'll be ready to take on life once again. If you're a busy career woman or a worn-out mum juggling kids and work – this is a week where you can forget about cooking, cleaning and washing – and simply focus on nurturing your body with fitness, health, relaxation and a little fun.
Find our more about our Bali Barre Retreat here.