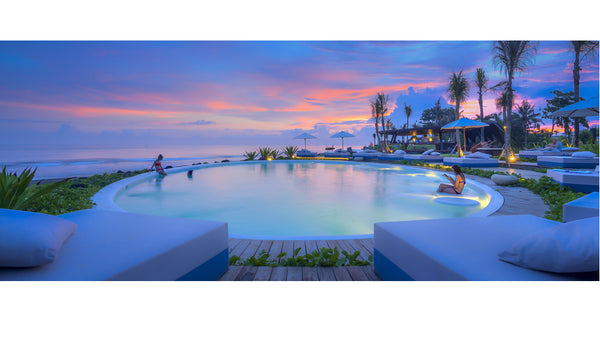 All your questions about our Barre Attack Bali Retreat answered
There's nowhere quite like Bali. It has a way of casting a spell over you – one that makes your shoulders drop, your pace slow down, your lips smile, and your heart lift. Its warm air and sea breezes, legendary friendliness and amazing food makes it the ideal place to escape the cold of winter and the stresses of everyday life. We can't think of a better place to build fitness while indulging a little down time. When there's an ocean view and a book waiting by the pool, getting to a morning Barre Attack has never been so easy. Come and join us – we want to share this gorgeous experience with you!
Can I come on my own to the Bali Barre Retreat?
Yes! Most of our clients have come to the retreat on their own but left with at least one new friend for life. Don't be nervous – we are there to look after you and you will be with like-minded people. If you want to round up a couple of girlfriends to do it with you then go for it! And just as most Barre and Pilates classes have have a mixed crowd, we've had clients of all ages and abilities come to our retreats.
But don't I have to be really good at Barre Attack and Pilates?
Nope! Our retreat caters to every level and we love seeing people improve over the course of the week – whether they are Barre Attack devotees or total newbies.
Do I have to go on a cleanse at the same time?
Not unless you want to! The food and drink options are sublime, and you can choose from the cleanest of salads to the most decadent of burgers. It's up to you – do what makes you feel good. We find that a cocktail by the pool or an evening glass of wine rarely goes astray.
Coffee???? I can't live without it!
Neither can we. Which is why we had to choose somewhere that provides fantastic coffee. We have high standards and these guys meet them every time.
Will I have some free time? I reeeaaallly need some me time!
You sure will! We have designed the retreat so that you can get a great balance of classes and down time. What you do with it is up to you, but we can promise that you won't run out of options. If you're into action, then there's surfing classes and all kinds of exploring to be done. If you just need time out, then settle yourself in by one Komune's heavenly pools (we especially like the kid-free, super peaceful one!) and drift off. If retail therapy is your thing then, believe us, you will have plenty of fun shopping.
What if I really want to improve my technique and fitness?
Then you've come to the right place. You can do as many as four classes a day and with the added challenge of exercising in the heat, you will be amazed at your progress. Your favourite instructors are on hand to give you heaps of personal attention, so this is an ideal opportunity to perfect your form, refine your technique and absolutely kill it at the barre. One of the things we pride ourselves on with our retreat is the quality of our instructors. They are highly trained, and they give their all. If you've done our classes at Balance Moves then you know that our dedicated, friendly and professional approach is second to none.  They also run Barre Attack Teacher Training and Barre Attack Examinations so they know their stuff.
I'm interested in becoming a Barre Attack instructor? Is there room for me at the retreat?
Yes! We are excited to be including teacher training options this year. You can start your teacher training journey with the Foundations course or, if you are already a qualified instructor, you can choose from a range of advanced modules. Plus we are offering 50% off any teacher training course you book along with the retreat.
Can I book today?
You sure can! Places are limited so we encourage you to get in now and secure your spot. If you'd like to know more, feel free to contact us at the studio.
This is one of our favourite parts of the Barre Attack year and we are thrilled to be sharing it with you.