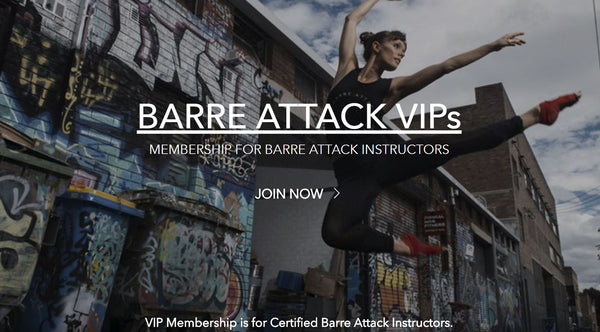 Barre Attack VIP Membership
Barre Attack Certified Instructors can now enjoy the benefits of VIP Membership.
VIP Membership is only available for Certified Instructors. 
Benefits Include:
Full Barre Licencing
Regular Choreography Updates
VIP Equipment Rates - 20% Refund on all equipment and apparel.
Marketing Support
Continuing Education Support (for Annual Members).
It's an exciting time to be a Certified Barre Attack Instructor.  Demand for Barre Instructors continues to grow and Barre Attack is widely recognised as the qualification to have.  VIP Barre Attack Membership takes this another step with new class formats, ongoing support and attractive discounts all aimed at ensuring Barre Attack VIP members continue to be the very best.
To find out more check out the dedicated Membership page.